925 Sterling Silver Lined Agate Stone Ring
Product Code : 102000553
925 Sterling Silver Lined Agate Stone Ring
How to measure the ring?
You can find your own ring size using the methods below.
Method 1 - Diameter

Ring Measurement If you have a ring that you have already worn on the finger you are planning to wear, take it in your hand, find a ruler with a millimeter (mm) size, place the ring horizontally on the table and measure the ring diameter from inside to inside.
Make sure that the widest part of the ring is measured while doing this. Read the millimeter from the ruler. Compare this value with the Ring Measurement Chart below and find your size.
Method 2 - Circumference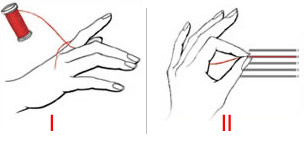 If there is no ring available according to the finger you intend to wear, take a piece of wire, a piece of paper or a piece of string in your hand and wrap the paper strip on your finger. Mark the junction of the 2 ends with yo
0d12h6m9s
Finish:0d12h6m9s
FREE SHIPPING OVER 200$
100% ORIGINAL PRODUCT
Product Related Featured Campaigns
{{CMP.TITLE}}
{{CMP.DESCRIPTION}}
Features

Payment Methods

Comments (0)
925 Sterling Silver Lined Agate Stone Ring

How to measure the ring?

You can find your own ring size using the methods below.

Method 1 - Diameter



Ring Measurement If you have a ring that you have already worn on the finger you are planning to wear, take it in your hand, find a ruler with a millimeter (mm) size, place the ring horizontally on the table and measure the ring diameter from inside to inside.
Make sure that the widest part of the ring is measured while doing this. Read the millimeter from the ruler. Compare this value with the Ring Measurement Chart below and find your size.


Method 2 - Circumference



If there is no ring available according to the finger you intend to wear, take a piece of wire, a piece of paper or a piece of string in your hand and wrap the paper strip on your finger. Mark the junction of the 2 ends with yo
50% OFF

USD 246.39

USD 123.19

50% OFF

USD 365.37

USD 182.69
Weekly Discounted Products